Address & Directions:
6616 Dalby Dr., Suite #160
Colorado Springs, CO 80923

Fax: (719) 505-7205

Get Directions
Hours:
Monday - Friday
MRI 7:30am - 9:00pm
CT 8:30am - 5:00pm
US 8:30am - 5:00pm
XR 8:30am - 4:30pm

Saturday
MRI 8:00am - 1:00pm
US 8:00am - 12:00pm

Sunday
MRI 8:00 am - 1:00pm

Services At This Location: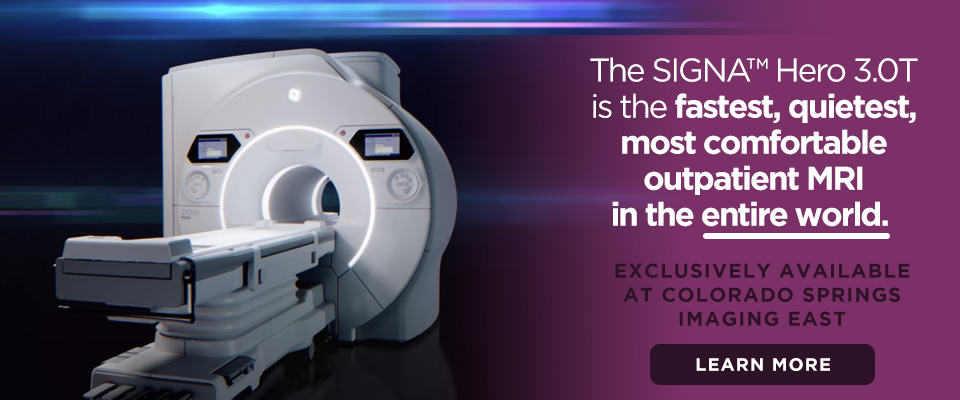 Welcome to Colorado Springs Imaging East
Experience the CSI East Difference
Colorado Springs Imaging East is our brand new location near Dublin Blvd and N. Powers Blvd helping to bring our usual 5-star diagnostic imaging services to more people across Colorado Springs!
As MRI technology advances, CSI East remains dedicated to combining the latest technologies with our compassionate patient care.
Using high-speed gradients, we're able to offer full-range testing — even perfusion diffusion and advanced scan sequences. This technology provides us with the ability to reduce artifacts and contrast agents when testing, leading to a more timely, accurate diagnosis.
The High Field Open MRI's fast operation and spacious design have made the entire testing experience more comfortable, reducing the need for sedation. However, we can still provide patients with oral sedation if necessary.
When CT scans are needed, patients will visit our serene, light-filled CT suite. We have both the technological and physician expertise to interpret results and provide an accurate diagnosis and staging.
Why Choose Colorado Springs Imaging East?
At Colorado Springs Imaging East, we have world-class diagnostic imaging, including the highest quality MRI scans, CT scans and other radiology services. Whatever the service, patients can expect a pleasant, personal experience from start to finish.
The SIGNA Hero is the latest revolutionary diagnostic imaging system we offer at Colorado Springs Imaging East. This machine, GE's newest magnetic resonance imaging (MRI) system, is one of the most sophisticated systems available. CSI East is proud to be one of the first centers in the world to use it.
With the SIGNA Hero, the AIR™ Recon DL's deep learning-based reconstruction algorithm allows technologists to achieve exceptional image quality much quicker. Motion-insensitive imaging with PROPELLER makes it possible to increase coverage while whole-body imaging allows users to scan multiple organs simultaneously.
The SIGNA Hero offers an enhanced experience, making even difficult exams more comfortable and routine and enabling operational excellence. We accept a wide variety of insurance plans to make intuitive diagnostic imaging affordable at CSI East.
We work together with you to ensure that:

Insurance coordination is completed accurately

Your appointment is as convenient as possible (scheduling and timing)

You have a memorable, special guest experience

You have the tools and resource you need to live a full and healthy life on an ongoing basis

Patients are treated with the utmost respect

We are committed to being timely, friendly, and helpful

Our services are in elegant, light-filled, comfortable offices

We cater to your needs with compassion and promise to make your imaging experience pleasant and accurate
What patients can expect at CSI East
Patients at Colorado Springs Imaging East have access to some of the best imaging services available in the marketplace. We strive to live out our mission of providing "customer delight" to our patients through all of our services. Our team has over 80 years of experience in the industry and understands how to use their professional expertise in medical diagnostic imaging to meet the community's unique healthcare needs.
Whether you need an MRI, CT scan or another one of our radiology services, you can always expect:
Compassionate care from staff and technologists dedicated to making your entire imaging experience a pleasant one.
Convenient appointment scheduling and timing to meet your needs.
Immediate turnaround times.
Timely, friendly and helpful services.
Tools and resources that explain and encourage healthy living.
Comfortable, light-filled imaging offices.
Accurate insurance coordination.
Memorable, special guest experience.
CSI East's mission is to provide "customer delight" for its patients, to support our referring physicians in a way that enhances the efficiency of their medical practices and to remain a cut above anything else available in the Colorado Springs area.